Tray plate collection
---
Description
Black is a tray-plate collection made in black anodized aluminium. Once turned over, this tray is transformed into a table top placemat napperon on a textile bedside table of the Magnitude Alexandre bed collection.


Material
Black anodized aluminium version.
Mirror polished brass version.
Other materials and finishings on request.

Dimension
46 x 26 x h3 cm
Audrey coat hanger
Black anodized aluminium. See Audrey collection.

Design
Jean-François D'Or

Edition
Edited by Vervloet | Produced and distributed by Vervloet
Price
Contact us to get prices and delivery time.
Pictures © Stéphanie Derouaux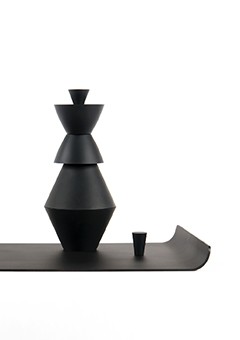 Black, quiet black, black hole, no substance, absence of material, black. Black, abyssal black, drowned black, deep black, black light, black. Black, mysterious black, sweet black, velvet softness, contrasting black, black dialog with glossy bright gold, black, humble black, black. Lacking hue, lacking brightness; absorbing light without reflecting any of the rays composing it. Characterized by absence of light; enveloped in darkness: a black night. Black.